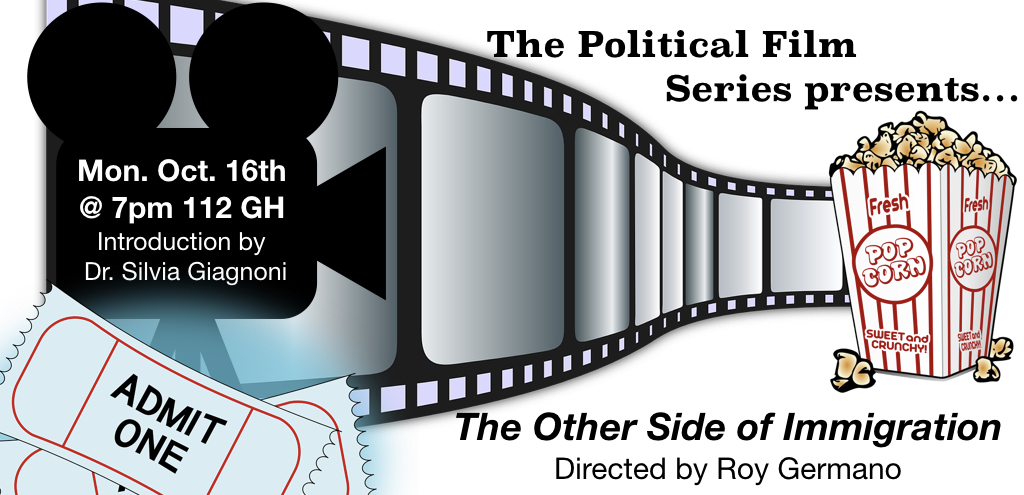 The Political Film Series will be showing a documentary film called The Other Side of Immigration. The screening will be held on Monday, October 16th in Goodwyn Hall, Room 112 at 7:00 p.m. This event is co-sponsored by the University Honors Program. Dr. Silvia Giagnoni, an Associate Professor in the Department of Communication & Theatre, will be giving a brief introduction on the topic before the film is shown.
A major political topic, both in the past and present, has been immigration. This event addresses the idea that "any effective approach to immigration reform…must be comprehensive and look beyond the border control issue." The Other Side of Immigration, a 55 minute documentary that is directed by Roy Germano, takes viewers into small towns of Mexico where most of its population has made the attempt to cross the border. The director presents a perspective on immigration involving undocumented people that Americans have rarely experienced. He looks at why people leave their communities in Mexico to work in America and what happens to those left behind.
The film "challenges audiences to imagine more creative and effective solutions to the problem." Director Roy Germano's Ph.D. research is the basis of the film. His research looked at the relocation impacts in Mexico's countryside. He is also the director of other films, A Mexico Sound and Immigrant America, that are related to the subject of Mexico and Immigration. Beyond directing films, Germano is an author of several published journals and books, as well as teaching at New York University for the International Relations Program.
This event is available to all students, faculty, staff and the public. Drinks and snacks are provided for this event. There will be a discussion following the screening, which attendees are welcome to stay and participate in. The length of the discussion can vary depending on audience involvement. This event, as well as the others in the Political Film Series is organized by Dr. Pia Knigge, an Assistant Professor in the Political Science & Public Administration Department. For any questions regarding this event or the Political Film Series in general, contact Dr. Knigge.
Article and graphic by Rachel Son
Comments
comments