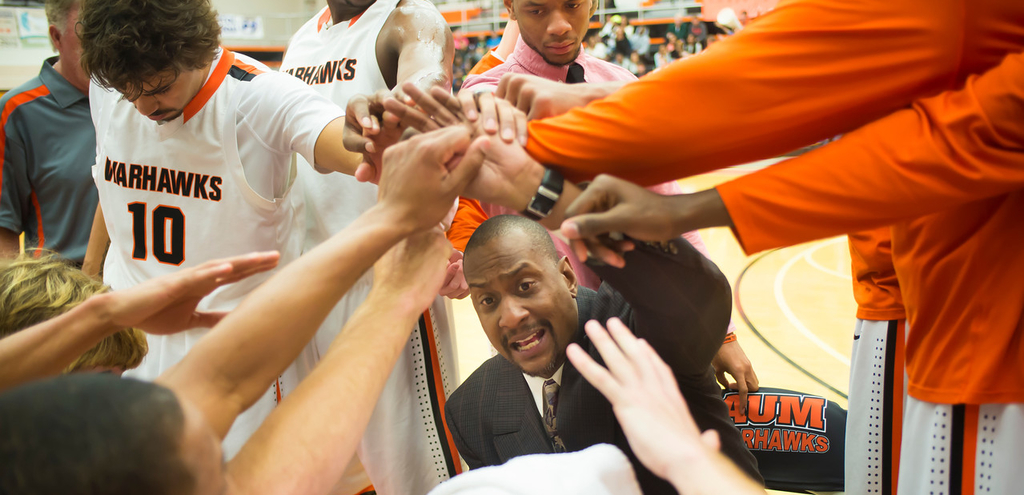 The AUM Men's Basketball team is coming into the new season ready to set things off with Coach Michael Cheaney to lead them to victory. Coach Cheaney has more than 15 years of experience at the NAIA level, as well as having played at NCAA Division I, II and III institutions. Cheaney, from Indiana, comes from a family that is known for playing basketball. He earned his Bachelor's degree in criminal justice from Kentucky Wesleyan in 1996, and went on to earn a Master's in Sports Management from Indiana State University.
Cheaney was a standout student-athlete at Kentucky Wesleyan University. During his playing career, Cheaney earned the Senior Award as the Panthers' outstanding athlete, set the school record for field goal percentage and was named the team's most improved player. He began his coaching career as a graduate assistant at DePauw University in Greencastle, Indiana. After his work at DePauw, Coach Cheaney went on to Voorhees College in Denmark, South Carolina where, as their head coach, the team won two conference titles.
This is Cheaney's fourth year as head coach of the AUM men's basketball team. Cheaney believes, "the current team of is what we need to build a good Division II program." Although they have a lot of freshmen this year, Cheaney "expects to see them grow and mature every day." Coach Cheaney strives to share a constant vision with his team. "Victory is our goal," says Cheaney.
Kenneth Keith, a junior for the AUM men's basketball team, is excited for the upcoming season. Keith, inspired by the coach's belief in the team, strives to give his all every day. He believes in all for daily commitment to the goal, saying, "If you do not sacrifice for what you want, what you want will be the sacrifice." He also believes that, "In order to succeed your desire for success should be greater than your fear of failure." Keith intends, like the rest of his team, to do his part to achieve the goal: victory.
Coach Cheaney, who is committed to community service, wants to see his team not just as basketball players, but as student ambassadors, making a difference in our AUM community as well as in our communities beyond AUM walls, as role models and leaders. He wants them to raise the bar for the program, for themselves individually and for the complete student-athlete. He wants them to be their best on and off the court, and in the AUM community. Cheaney said, "We're not only about basketball but we are also about the community". Cheaney is very excited and determined that his team will do great this season. After all, as he said, "Victory is the Goal."
The AUM men's basketball team will compete in their season opener Nov. 3, at Alabama State University in Montgomery, AL at 7:30 p.m.
For more information on Coach Cheaney and the Men's Basketball team and the schedule of the games, visit the AUM Athletics webpage.
By Joshua Easley
Comments
comments