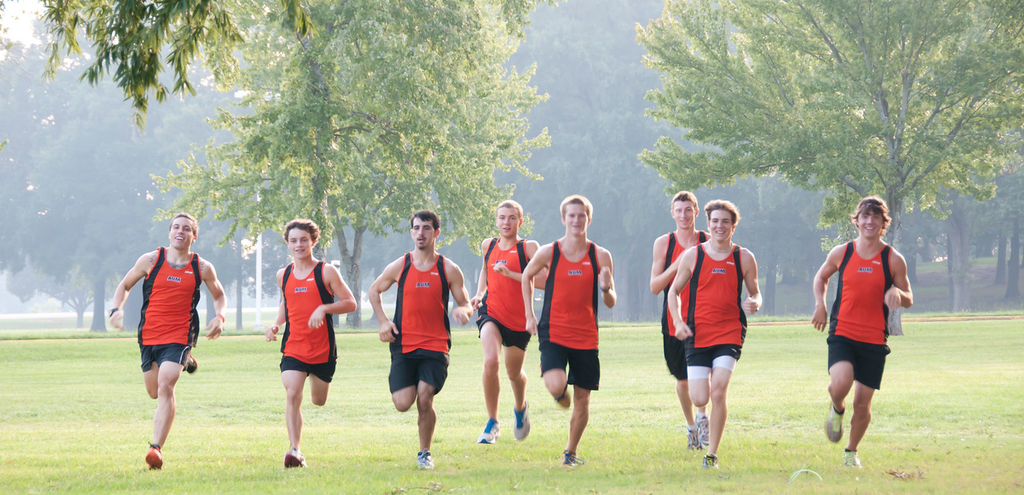 The Cross Country team consists of members who run long races over varied terrains, including hills, roads, mud puddles, grassy fields, rocky paths, and sometimes even shallow streams. The runner must have a strong heart, put in a lot of practice and have a good pair of racing and training shoes. To complete the race, the runners must not only have the strength to finish, but must also always be aware of their surroundings. Cross Country is capable of being both an individual and a team sport. Individuals compete against other runners, then the runners scores, based on the individual times to complete the race, are added up for a team score; the lower the score, the better.
AUM Cross Country team consists of 10 males and 8 females. They are in their second year of The NCAA transition, where they compete in the Gulf South Conference. According to Coach Ryan Thompson in the year of 2019 he and his team will be a provisional member of the NCAA where they will be able to compete on a national level for a track and field championship.
Coach Thompson ran track at Mercer University, GA in 2004. He went to college at Charlestown in South Carolina, where he was a Graduate Assistant. After he graduated, he was hired as the Charlestown Southern Assistant Cross-Country Track and Field coach. Coach Thompson later moved to Colorado for a while and was a "Ski Bum." He came to AUM in February of 2016 and was hired as the Cross-Country Head Coach. Coach Thompson has been married for 10 years and has a daughter and son.
Coach Thompson mentioned that his favorite quote, which he also likes to tell his players is, "Be comfortable when you are uncomfortable." His other favorite quote, which he also shares with the team, is "Nobody ever drowned in sweat."
Jacob Russell Lister, a returning sophomore for the Men's Cross-Country team is very excited for the upcoming season. Lister said, "We have a very tough schedule where we will see a lot of D1 competition." He mentioned that their team is very young with 5 new freshmen and 2 new walk-ons, but "the team has been training at a high-level day in and day out preparing for what's to come".
Lister mentioned one of favorite quotes, which he says gives him motivation and determination: "Don't count the days, make the days count."
When asked what is he looking for from his team, Coach Thompson responded by saying he is looking for a solid group of men and women to begin their legacy as a Division II competitor. His goal, and the goal of the Cross-Country team, is to be competitive in all their races. They want to be a force to be reckoned with, and he believes that they can put the pieces together to win their first Conference Championship in the fall of 2019. For more information on the Cross-Country team or Coach Thompson, and the schedule of the games, visit the AUM Athletics webpage.
By Joshua Easley