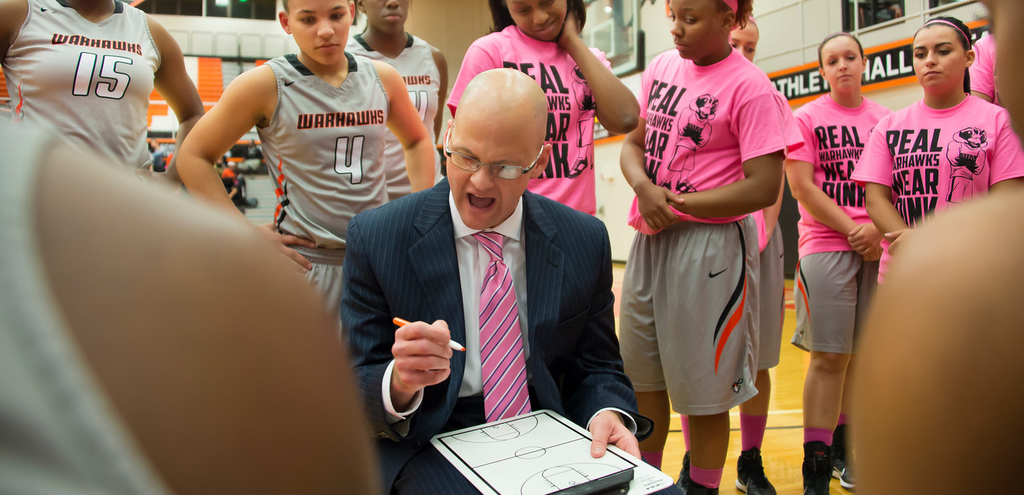 The AUM Women's Basketball team is under the leadership of Coach Dan Davis. Davis graduated from AUM in 1999, receiving his degree in Secondary Education and Social Sciences, and played basketball throughout his four years as an AUM student. Davis is proud to be back as a part of the AUM family and as the coach. During his AUM career, the team played in the NAIA National Tournament, won the NAIA Southeast Region and were the Southern States Conference Champions.
Davis has been married to his wife, Christi Shirley, for 18 years and they have four children, Abigail, Cooper, Nash and Tate. Basketball is what Davis is passionate about, and he loves the journey that he gets to take with the team. Davis said, "this team is made up of a diverse group of individuals and it's a great profession to be in."
The AUM women's basketball team consists of 24 team members. Davis wanted a talented group of players, where he could have a team large in size and length as well as in speed and quickness. He wants the team to win its conference championship and go to the Gulf South, he plans to "go out and make some noise, and compete for the championship." Davis and the women's basketball team want to set the bar high and give their all.
Coach Davis encourages his players to, "attack this day with an enthusiasm unknown to mankind," meaning his players should bring enthusiasm to every day with what they do, on and off the court. Davis also reminds his players that the letters in "team" stand for something – T for togetherness, E for enthusiasm, A for attitude, and M for mental toughness. For the success of the team, the players have to remember that no one person will do anything by themselves. "They will do it together and they will have to have each other's backs," says Coach Davis.
Having the opportunity to play collegiate basketball and be apart of something great has him looking forward to the season. Davis said, "Life is going to knock you down, but the toughness is what is going to get you through it." The attitude of being positive, and the mentality of doing anything you believe you can do will help pave the way. Davis believes that with these qualities he will have a formidable team.
Kyla Rooks, a senior guard, sees herself as a team player and is all about the team. Rooks mentioned her favorite quote that motivates her is that, "To whom much is given, much is required."
Coach Davis wants his team to be the best they can be, and to keep trying to get better every day. He wants his team to do this day in and day out, to develop the mentality, hope and hunger that translates to wins on the basketball court. He believes if this happens good things will happen. As the coach he wants to compete for a championship, see his team do all it can to maximize its potential, and grow as individuals and to be the best they can be.
The first women's basketball game of the season will be Nov. 1, at 5:15 p.m. against Troy University of Montgomery, Alabama.
For more information on Coach Davis or the women's basketball team, and the schedule of the games, visit the AUM Athletics webpage.
By Joshua Easley
Comments
comments