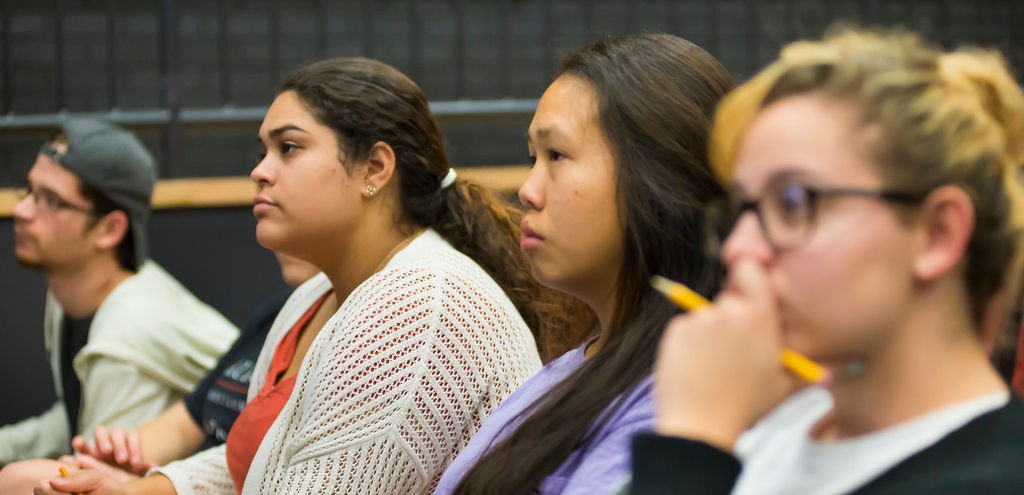 Encouraging the discussion of immigration has been a focus for the University Honors Program (UHP) this semester. In the month of October, the program hosted three immigration-themed events for the campus community. One of those events was a forum entitled "What I Wish Everyone Understood About Immigration." It featured five expert panelists, debating hot-button issues such as safety—for both current citizens and those seeking to become citizens.
Sam McLure, a Republican candidate for Alabama Attorney General, opened the discussion with a defense of President Trump's travel bans and plans to build a wall along the Mexican border. Likening immigrants to dangerous hitchhikers, McLure urged audience members to "take a look inside the president's mind," and see that "American safety is the number one priority."
However, Alan Cross, a member of the "Bibles, Badges, and Business" program of the National Immigration Forum, challenged McLure's accusation that immigrants are inherently dangerous. "There's been many studies which show areas with high levels of immigrants have low levels of crime," he said.  Cross believes that actually immigrants tend to avoid committing crimes because they're afraid of deportation.
Cesar Mata, a Mexican activist with Adelante Workers Center, and the only immigrant voice on the panel, wants people to understand immigrants aren't out to harm our country; they're just chasing the American dream. "The media is doing so much harm, but the bad people you see aren't us," he said. "When something bad happens here, it hurts me because this is my country too."
"We need to dispel the myth that our country is constantly under siege," said Jessica Vosburgh, Staff Attorney for the National Day Laborer Organizing Network. In response to Mata's comments, Vosburgh said, "We need positive foreign policy that addresses the reasons why immigrants abandon everything they know for a country where they might be targeted and treated unfairly."
Nicolas Bartell, Director of the Montgomery field office of Citizenship and Immigration, was legally unable to discuss matters of safety, but offered detailed explanations of our country's complex immigration laws. The complexity of immigration was one point all five panelists seemed to agree on. "The more I study, the more I realize I don't know," Cross admitted.
Rachel Pate, President of the 2017-2018 UHP, says the forum was a unique opportunity to learn from a range of viewpoints. "The thing that stood out to me most was the wealth of knowledge the participants had, but also the presentation of the issue as a human issue," Pate said. "I found it really useful, as I've been exploring different ideas and opinions to better form my own."
As a junior Spanish major, Pate believes studying immigration is more important than ever. "There are so many international students on our campus, and we have so much to learn from them," Pate said. "If we only ever know how one narrative of life works, then our education isn't successful. It's ignorant to see immigration as anything less than vital to our success as a society."
Dr. Matthew Jordan, Director of the UHP, is taking steps to provide a successful education for all students on campus. "We strive to ensure honors students can honestly and openly discuss the issues we're studying, including the very controversial ones," Jordan said.  "By hosting public events like the immigration forum, we hope to extend that ethos to the broader community."
By Rachel Wallace, Webmaster/Editor
Comments
comments