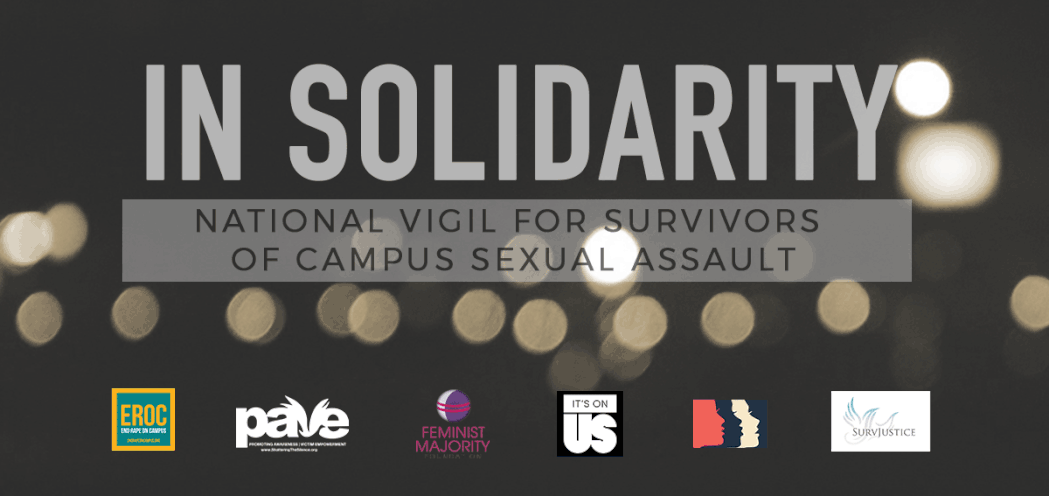 WASHINGTON—​Over 650 people will gather outside the Department of Education on the evening of Thursday, October 19th, in a vigil for survivors and victims of campus sexual assault. The vigil will honor survivors and victims of sexual violence and rally against the Department of Education's rollbacks of protections for survivors. Survivors and parents of survivors and victims will tell their stories, followed by a moment of silence for all who lost their lives due to sexual or domestic violence. This powerful event for the movement against sexual assault comes just a few days after more than twelve million people speaking out using #MeToo online, making this a critical and powerful moment for survivors and allies alike. The National Vigil for Survivors of Campus Sexual Assault and Day of Action is organized by End Rape on Campus, Women's March, It's On Us, PAVE, Feminist Majority Foundation, and SurvJustice.
The National Vigil will be accompanied by more than twenty sister vigils on college campuses across the country, including Columbia University, University of Iowa, University of Kentucky, William & Mary, Brown University, Rochester Institute of Technology, and others. Students will be calling on their university officials to uphold the 2011 Dear Colleague Letter and to not engage in the survivor-harming practices the Department of Education recently started allowing under new guidance.
Jess Davidson, Managing Director, said, "Betsy DeVos and the Trump administration have done everything they can to silence survivors and turn back the clock —​ from refusing to let survivors into key policy announcements that will affect them to writing policies that make it easy for schools to stack the deck against survivors. But today's powerful actions make it clear: survivors can never be silenced by the DeVos agenda. EROC is proud to stand with hundreds of survivors, parents and allies in Washington, support student vigils on more than 20 college campuses, and be in solidarity with the more than twelve million survivors who spoke out using #MeToo this week. This is a watershed moment for survivors. Survivors —​ ​and this movement —​ ​are powerful, united, and not going anywhere."
Media inquiries can be directed to Jess Davidson at jdavidson@endrapeoncampus.org End Rape on Campus (EROC) is a national survivor-led nonprofit dedicated to ending gender based violence on college campuses through survivor support, prevention through education, and policy advocacy. You can learn more at www.endrapeoncampus.org.