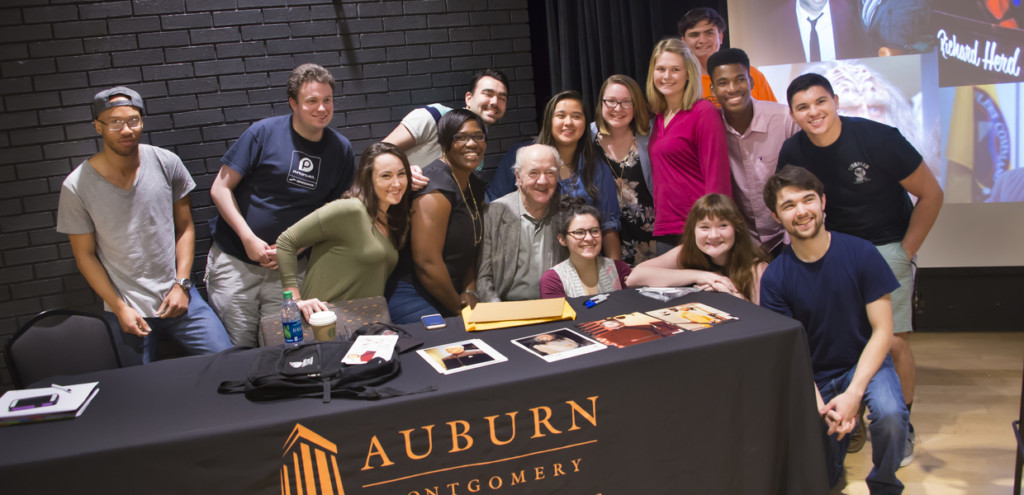 During his AUM Lecture Series address, famous actor Richard Herd shared many words of wisdom with students preparing to enter the workforce.
"You can't have anything unless you work your ass off for it," said Herd, who is best known for his portrayal of Mr. Wilhelm in "Seinfeld" and Adm. Owen Paris in "Star Trek." The now 84-year-old superstar has worked for six decades to earn his place in more than 500 television, movie and theater spotlights.
After seeing his first play as a teenager, Herd knew he wanted to build a career in the performing arts. He encouraged students to follow their bliss as he did, but warned them to set realistic, short term goals for themselves. "You have to have clarity of vision," he said, "a real vision—not a fantasy vision."
Herd said everything he has done—from his first job as an usher at Carnegie Hall to his latest role in a blockbuster hit—has been to better himself and his career. "You can only be one thing at a time when you're building a career," Herd said. For him, that one thing was always an actor.
Now that he is older, however, Herd also enjoys creating music, jewelry, poetry, plays, and artwork. In fact, he has numerous art exhibits to his name, which he was very excited to discuss in an interview after the address. Herd's passion for art and music shone in his eyes when he spoke of them.
During his address, Herd invited students from the audience to come on stage with him and talk about what they were studying. One of those students was Antonio George, a freshman theater major with silver screen dreams. "You're so lucky to be able to do something with your life that you truly love," Herd told George as they stood together.
George was blown away by the experience. "It took the breath away from me because he's such a great actor and he's played so many great roles," George said. "It was nice to be standing on stage beside him as an actor myself." In addition to George, there were many other theater majors in attendance, as well as many science majors and "Star Trek" fans.
In a Q&A session after the address, audience members asked the Lecture Series guest about his personal life, the people he has worked with and the roles he has played. Many were excited to learn about "Get Out," a horror movie directed by comedian Jordan Peele which has been playing in theaters since February. Herd played a cameo role in the movie, which was filmed in Fairhope, Alabama.
Herd didn't know Peele before filming began, but now he's very glad to have worked with him. Peele, Herd said, is a brilliant man with a wonderful talent for bringing people together on set. Herd didn't act in the movie for fame or money, but rather for the experience of working with all the young people who were involved. "It was fun," he said.
During the interview, I asked Herd why he came to lecture at AUM. "I like to speak to young people," he replied. "I like to give them the straight ticket and encourage them, but they have to realize they've got to work if they're going to get a piece of the world."
Herd also praised AUM faculty members Nick Thomas, Michael Burger and Neil David Siebel, who were involved in organizing his visit. "These men here are just wonderful," he said.
When I thanked Herd for answering my questions, he said, "That's why I'm here. Now give me a hug!" As we spoke, I was so captivated by his kind words and spirit that I forgot to take notes—something he realized as we embraced. "You can't remember these things," he said to me. "You've got to write them down!"
Although the other students and I are sure to remember Herd's advice as we enter the workforce, it was his down-to-earth personality and caring heart that inspired us the most. He's the kind of star we all aspire to be.
By Rachel Wallace
Comments
comments