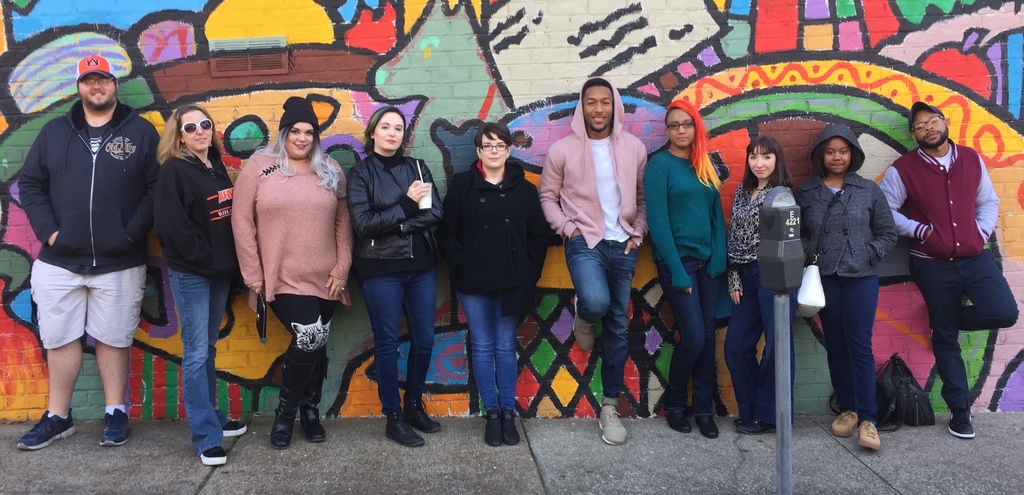 In a Q&A with "ART Club" Adviser, Associate Professor and Department Chair William Fenn, we learned the importance of art at our university.
Q: Why does the Art club take trips?
A: The ART Club takes trips for three key reasons: First, prior to the ART Club being launched in Fall 2016, I met with an exceptional group of Department of Fine Arts sophomores and juniors who stated they felt it was very important for any art related club to offer students the opportunity to travel to large cities and experience various types of art not available in Montgomery, AL. It was also determined that any city selected for travel must be reachable within a 5-hour drive time. As a result, the club placed Atlanta, New Orleans, and Nashville on a rotation. The trips incorporate visits to both museum institutions and contemporary galleries.
Second, and this may sound comical, but I think an episode of the television show The West Wing put it best, "There is a connection between the progress of a society and progress in the arts. The age of Pericles was also the age of Phidias. The age of Lorenzo de' Medici was also the age of Leonardo da Vinci. The age of Elizabeth was the age of Shakespeare." A hallmark of societal development is advancement in the arts. Third, when I was in undergrad I had the opportunity to take art related field trips. For example, a professor of mine organized a day trip to see an exhibition and discussion of paintings by Gerhard Richter at the San Francisco Museum of Modern Art. It was an eye opening experience and one which transformed the way I look at art. I hope every student who takes part in the ART Club trips experiences a similar event. It should be noted, that each student who participates in an ART Club trip always contributes financially to the travel and we've been very lucky to receive funding from the Office of Student Involvement and individuals from the community such as Dr. Julie Freeman, Dr. Michael Freeman, Dr. Marilyn Rhodes and Dr. Michael Grumelli.
Q: Why should art programs receive more funding in the school system?
A:  I believe support for the arts is important and a key reason is what I mentioned earlier regarding societal progress. Funding for the arts is a national topic as well. There are instances in which you hear individuals discuss how they don't want their tax dollars spent on the arts, but there are also times when you hear people mention how they don't want their tax dollars spent on national defense. Similar arguments can be made regarding education, healthcare, the environment and other issues. It can result in rather contentious dialogue.
Things get really interesting when you start to examine how other countries spend taxes on these items. While I want the arts to be supported, I'm also a pragmatist and I believe money, particularly when it is limited, needs to be spent in a resourceful manner where you get the most bang for your buck. In essence, I think money needs to be allocated for needs that are well justified. While I love my field and have a passion for the arts, I've never operated under the assumption that what I do is more important than another occupational pursuit.
Q: How can AUM students get involved in the ART Club?
A: Students interested in the ART Club can contact me at wfenn@aum.edu or the club president, Brittany Roberson at brobers1@aum.edu. Non-art majors are welcome and can take part in club activities and field trips as well.
Article by Darya Farsinejad
Featured image of the ART Club, by the ART Club
Comments
comments