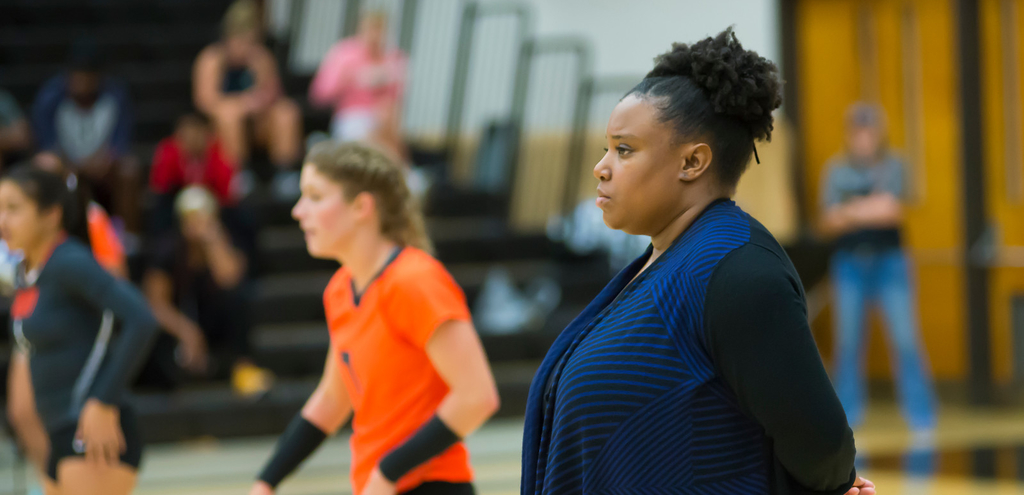 Auburn University at Montgomery's first women's volleyball team is scheduled to play under the leadership of Coach Melissa Robinson. A strong coach with dedicated players could make this inaugural team unstoppable. Photos by Frank Williams.
Coach Robinson came to AUM with a strong history as a team player and a coach. As a coach, Robinson's record shows her as having built Tuskegee's volleyball program to lead Tuskegee to its season of 32-32, coached four all-conference performers, including the 2015 Co-SIAC Player of the Year, one All-South Region performer, as well as, guiding at least one student-athlete to the NCAA Division II Statistical Championship in aces per set her first season. In her own career as a team player, Robinson had a three-year career as a top performing lady Bulldog, during which she took her team to the 2010 Mid-Eastern Athletic Conference championships. With her outstanding playing, Robinson finished her career with 128 kills, 134 assists and 996 digs, breaking her school's season record with 449 digs as a senior. Robinson still holds her school's record for hitting seven aces in one set.
Robinson's history demonstrates that she not only knows how to play the game, but also knows what it takes to coach a team into the championships. Coach Robinson has a quote she likes to tell her players: "The game of volleyball only requests three things from each athlete and that is hustle, communication, and effort. All three are always within your control," said Robinson.
When talking to the team members about the upcoming season, their excitement to play and win are evident. AUM's first Women's Volleyball team is made up of three freshmen, three sophomores, and six juniors. Two of them shared what motivates them to play and to push themselves every day to do what they love. Haley Toler, a sophomore from Tallahassee FL said, "If you throw me to the wolves, just know I'll return leading the pack." Jedaiah Daniels, a freshman from Queens NY said, "They say that your darkest hour comes before your dawn." Our AUM lady Warhawks are ready to put in the hard work to establish their own record of victories.
When Coach Robinson was asked what did she want to see from her team in this upcoming year, Robinson replied that she wants to see a lot of hard work and effort. "Teamwork is going to be essential for us being that we are a first-year program." She wants this inaugural team to set the foundation of a winning program for the future.
If you would like more information regarding the Volleyball team or Coach Robinson, and the schedule of their games, visit the AUM athletics page.
By Joshua Easley